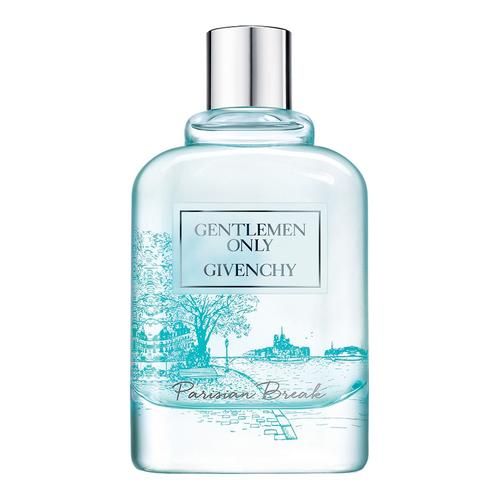 By mixing tradition and modernity, Givenchy has succeeded in carving out a place among the greatest. Founded in 1952 by Hubert de Givenchy, the brand has survived the ages with elegance. His meeting with Audrey Hepburn will be a real turning point for the brand. Hubert will even dedicate "L'Interdit", his first perfume to him. After great olfactory successes, in 2013 Givenchy unveiled "Gentleman Only" , which represents the fragrance of a freed, modern and ultra-seductive man. In 2106, the Givenchy brand offered one more variation with "Gentleman Only, Parisian Break".
Simon Baker walks on the banks of the Seine…
In 2013, Givenchy embodied the fragrance of a contemporary man full of "Gentleman Only" style. As muse, the charismatic Simon Baker, actor, notably in the series "Mentalist". The latter perfectly represents the brand's idea of ​​the gentleman, attractive, full of charm, polite, well behaved and with a smile that makes them all "cracked"! Building on this success, Givenchy offered its fans several variations. Today, we find our gentleman in the heart of the capital … Stopping, breathing, enjoying the day, it's a pleasure to which our gentleman indulges with style and glamor. Here, Simon Baker rediscovers simple happiness, a stroll on the banks of the Seine, a beautiful Parisian and casual getaway. Dressed in a white shirt, black pants and sneakers, Simon Baker seduces a beautiful brunette in passing… "Gentleman Only Parisian Break" looks like a burst of elegance in the middle of a sensual heart,
Gentleman Only Parisian Break, between freshness and relaxation
"  Gentleman Only Parisian Break  " is defined as a woody-aromatic fragrance that begins with the invigorating freshness of lemon. For a much stronger and more frozen sensation of freshness, lemon pairs with mint. The heart of "Gentleman Only Parisian Break" is very aromatic with the presence of sage. The base will be woody and amber thanks to the presence of amber and Haitian vetiver. As for the bottle, it uses the main codes of its elders. In heavy and transparent glass, the bottle is adorned with a sketch showing the Ile de la Cité as well as the Notre-Dame cathedral. The design is in a minty green color, thus revealing the immense freshness of its composition. The set is as elegant as that of Simon Baker.
After the success of the gentleman, Givenchy offered several variations. With "Gentleman Only Parisian Break", we find the charismatic Simon Baker in the heart of the capital. He decided to take a walk on the quays of the Seine, in a free and casual way. "Gentleman Only Parisian Break" is an intensely fresh composition and allows our gentleman to approach a relaxation that we did not know him.