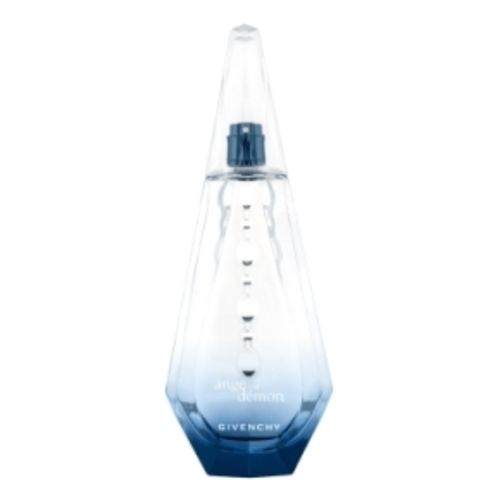 Buy the Givenchy Angel or Demon box at a low price on Fragrenza Perfumes.
Tender Eau de Toilette, a new olfactory expression of Ange ou Démon Eau de Parfum proposed by Givenchy . A tender variation with an intimate and deceptively innocent charm.
Light prevails over shadow. The angel is all gentleness, and the demon makes a velvet paw.
But make no mistake. Behind the Tender Eau de Toilette is always slumbering incandescent seduction, sublime but more discreet, even secret, like a touch of the skin.
Pure, airy like a feather or a silky caress that barely touches the skin and makes you lose your mind.
A delicate ingenuous, an evanescent sylph whose limpid azure gaze is suddenly veiled. Bewitching candor who reinvents in a tender duel in pastel colors the disturbing femininity of Ange ou Démon.
Tendre et Lumineuse
Floral Poudré Eau de Toilette , a new interpretation of Angel or Demon very gently, with feline and tactile sensuality. It preserves the key ingredients of the floral character of Angel or Demon while registering its wake in new sensations, pure, luminous and tenderly sparkling.
– Top Notes:
A fresh, spontaneous radiance of Calabrian mandarin brings in its impetus the vegetal freshness of a lily of the valley note and the candid feminine accent of orange blossom.
– Middle notes:
The "white flower" note, the olfactory signature of Givenchy fragrances, blossoms with the secret elegance of the fleur-de-lys accord, immaculate and airy.
The peony brings a rosy, delicate, fresh, very natural breath, and its touch of feather petal. The heliotrope, impalpable, worked like a sketch, covers the composition with a veil of powdery softness.
– Base notes:
An elegant rosewood and a touch of patchouli sublimate this fatally sweet fragrance …
A luxurious bottle for a unique fragrance.
Chic, unique, with its cut crystal edges, the tassel bottle plays, like a prism of light, in an inverted gradient from pure white to blue. "Blue attracts man to infinity and awakens in him the desire for purity", said the painter Kandinsky. For Serge Mansau, the first idea of ​​the tassel is the original drop of water, captivating.
Sweet freshness. Absolutely transparent, white and crystalline at its top, the glass sculpture is tinted as it approaches its base of an increasingly dense blue, which seems to suck us into mysterious abyss. The transparent cover reveals a metallic blue push-button, like a shining sparkle.
Now also find Angel or Demon The Secret .
Women's Perfumes
Olfactory Family: Floral – Powdery
Top Notes: Calabrian Mandarin, Lily of the Valley Note, Orange Blossom.
Heart Notes: Fleur-de-Lys, Peony, Heliotrope.
Base notes: Rosewood, Patchouli.
Find it at the best price at our perfume partner: Ange ou Démon – Fragrenza Perfumes as well as all Givenchy brand products .