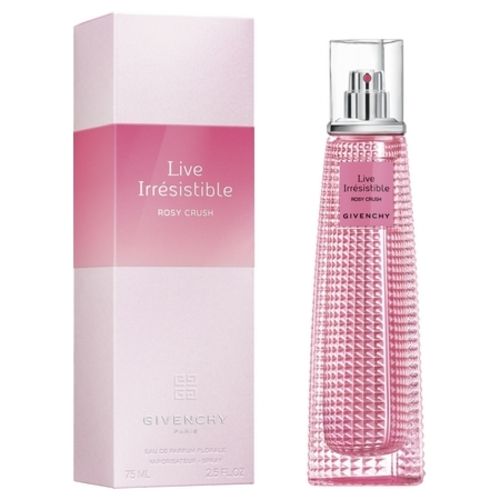 Givenchy offers a new Live Irresistible fragrance in 2019
Hubert de Givenchy has always been a great lover of perfumes, so much so that the stylist has proposed Le Dé and L'Indit, two splendid feminine fragrances, just five years after launching his couture label in 1957. From flasks to flasks, Givenchy will draw the portrait of a fulfilling and smiling woman and the beautiful Live Irrésistible released in 2015 will not be exempt from it, quite the contrary!
The beautiful scented girls of Live Irrésistible will play on this scented joie de vivre to show themselves in turn greedy, mischievous or luminous and the contrasting Live Irrésistible Rosy Crush will go even further …
Joy of life and femininity in a Givenchy fragrance named Live Irrésistible Rosy Crush
From the first Givenchy feminine fragrances such as Le Dé or L'Indit to Very Irrésistible , L'Indit 2018 or Live Irresistible, all Givenchy fragrances each exhale in their own way the extraordinary creativity of the Givenchy label.
"A celebration of uniqueness, the Maison's olfactory creations combine elegance and avant-garde. Playing with the mix of genres and injecting unexpected and intoxicating twists, they embody the brand's Fearless Classic vision. »Givenchy tells us about his perfumery.
This singularity is of course found in the range of beautiful Live Irresistible perfumes which highlight both the beautiful and graceful rose as well as new olfactory notes such as pineapple and passion fruit in the eau de parfum and now pink berries. and Goji berries in Live Irresistible Rosy Crush .
Live Irresistible Rosy Crush will therefore not lose an ounce of the beautiful rose elegance of its elder brother, let it be said! But will bring him an intense spontaneity and hot cold contrasts still unknown until then.
The composition of the perfume Live Irresistible Rosy Crush
Live Irresistible Rosy Crush or the strength of opposites between the freshness of Goji berries and the sensuality of patchouli and iris.
Dominique Ropion, creator of Live Irresistible and of his beautiful descendants like Live Irresistible Rosy Crush is a great lover of the rose so much he appreciates its particular scent, inimitable and very representative of French elegance.
From this sparkling and ultra feminine rose of Live Irresistible, it will give birth in Live Irresistible Rosy Crush to a new force which will be sometimes fresh and sometimes powerfully chypre. Because until now Live Irresistible perfumes had offered floral or gourmet dimensions and this Live Irresistible Rosy Crush on the other hand will be very fresh.
Thus Live Irresistible can be seen divided into two distinct olfactory portraits. On the one hand, the freshness with the tangy top notes, goji berries and pink berries while on the other side appear patchouli, white musks, vanilla and iris all coming together in the splendor of this magnificent rose, signature of the range.
Live Irresistible Rosy Crush will therefore be the scent of a very glamorous woman certainly but also natural and spontaneous, like the lovely ambassador Lou de Laage.