It was Count Hubert de Givenchy who succeeded in offering the brand of the same name all the elegance and luxury we know. Its first ready-to-wear line saw the light of day in 1954 and its first perfume in 1957, but its first two perfumes were imagined the same year, namely L'Interdit and Le De. Among the other great successes of the house Givenchy , we note Ysatis, Gentleman Only, Ange ou Démon, Pi or Hot Couture. Very Irresistible was released in 2003 and symbolizes a sparkling woman who enjoys life to the fullest.
A joie de vivre called Very Irresistible Givenchy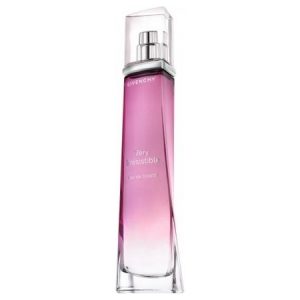 Very Irresistible L'Eau de Toilette, a fragrance that is both sensual and luminous
Represented by the iconic Amanda Seyfried, Very Irrépressible is a sparkling, sensual and ultra-feminine fragrance. Very Irrésistible actually tells the story of a beautiful friendship between Hubert de Givenchy and Audrey Hepburn. Very Irrésistible is the story of a unique encounter between American glamor and French elegance.
Here, the unexpected mix of rose and hints of anise translates an improbable association between luxury and spontaneity. You should know that the "Liv Tyler" rose was specially designed to compose this perfume. This rose, unique to Givenchy, is velvety and caressing, even wild. At the heart of the composition of Very Irresistible, roses are used in overdose. Very Irrésistible opens with the original accord of star anise, star anise and red fruits. The heart is filled with roses, while the base is woody and sensual thanks to the meeting of vanilla and patchouli.
Very Irresistible Eau de Perfume, sensual and radiant with beauty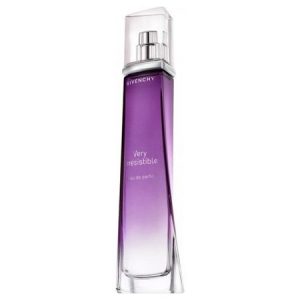 Very Irresistible Eau de Parfum 5-rose bouquet
In order to embody this fragrance both sparkling with joy and filled with daring, the house of Givenchy chose the talented Amanda Seyfried, who perfectly represents the modern and sparkling woman. The sensual and deep variation of Very Irresistible Eau de Parfum gives off a new sensuality based on patchouli coming to mix with the scents of roses and vanilla. The image of the Very Irresitible Eau de Parfum woman is even more fiery and daring than her predecessor.
The composition takes off on star anise combined with the fruity tone of pear. The heart is filled with a bouquet of 5 roses associated with peony and magnolia for maximum romanticism. The base is sensual and will combine patchouli and rose. The slender and elegant bottle is adorned for the occasion in a purple color. This color is played in a gradient, from top to bottom, topped by a transparent purple cap. Clean, it really exudes an extraordinary elegance.
Between joie de vivre and sensuality, Very Irresistible by Givenchy is a romantic fragrance where the Queen of Flowers sublimates the entire composition. Elegant and modern, the variations of Very Irresistible feature a playful and sparkling woman who loves life and who sports a fiery, even sassy aspect.