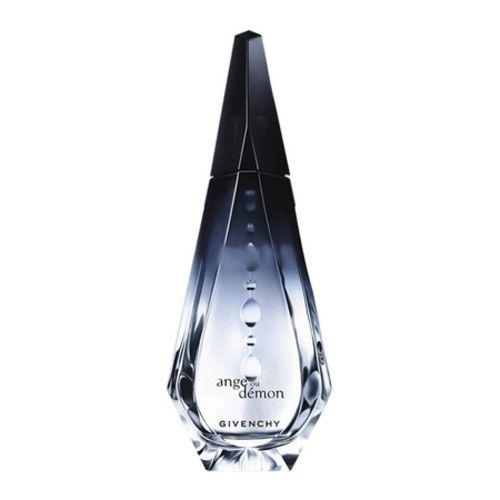 Angel or Demon, the enigma of Givenchy
Angel or Demon is a mysterious essence. With her, the woman is as harmonious and attractive as an angel but also as tempting and dangerous as a demon. Angel or Demon is halfway between shadow and light. Like its bottle, it is pure as crystal but also has a very dark side. Its charm then becomes all the more bewitching.
Angel or Demon, a mystery that fascinates
At first glance, the Angel or Demon perfume has a very attractive air . It is born in the clarity of glass and charms us to the point of dizziness. Her angelic air is a trap where it is easy to get lost. In this sense, it corresponds to the image of a disturbing and enigmatic woman. Is she an angel or a devil? Only she knows. Ange ou Démon is a shadowy and crystalline fragrance. It is a charismatic essence based on a sensual concentration of oriental flowers.
The bewitching scent of Givenchy
Ange ou Démon displays unexpected top notes. These are as fresh as they are insolent. They contain in particular the mandarin of Calabria. Likewise, white thyme brings an aromatic freshness. Saffron, on the other hand, reveals a spicy hint which remains subtle and sweet. Then, Ange ou Démon Givenchy evolves towards a particularly carnal heart . The fleur-de-lis exhibits all its femininity there, while the orchid reveals its tenderness and the ylang-ylang captivates you with its exoticism. Its background, on the other hand, is more dense. It gives off woody aromas of oak, rosewood and tonka bean. Finally, vanilla completes this enigma of sensuality.
Discover the new Angel or Demon Mother's Day 2014 gift set from Givenchy…

The Givenchy Angel or Demon set contains an Angel or Demon eau de parfum 50 ml and as a GIFT a silky body veil 75 ml and a Shower Gel 75 ml.
Who is she ? Only she knows…
Ange ou Démon Eau de Parfum is an enigma. Is this woman an angel whose harmony attracts you or a demon whose illusions trap you? Its bottle is a tassel.
He is shadow and light, from the sparkle of crystal to the depth of black. The fragrance celebrates the meeting of lily flower, pure and noble, and dense and deep oak wood. This enchanting magic potion is at the same time luminous, pure and mysterious.
Women's Perfumes
Olfactory Family: Oriental – Floral
Top Notes: White Thyme, Mandarin, Saffron.
Heart Notes: Orchid, Ylang Ylang, Fleur de Lys.
Base notes: Tonka bean, Rosewood, Vanilla, Absolute, Oakwood.