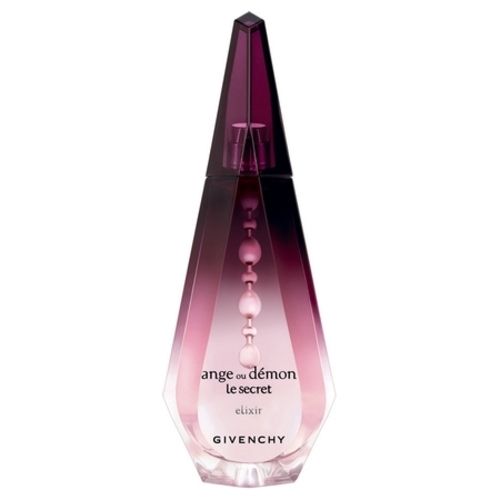 Angel or demon The secret Elixir, the many faces of a woman
The new artistic director of the Givenchy house loves to play with the different faces of women to create very contrasting haute-couture or perfumery universes. With Ange ou Démon then Dahlia Noir , Ricardo Tisci has, in fact, been able to create, through original perfumes, scents that combine the brightest forces of women as well as the darkest. It is certain that the beautiful Angel or Demon Le Secret Elixir released the same year as Dahlia Noir was influenced by this passion for chiaroscuro that the creator has maintained for years for our greatest pleasure.
Because Ange ou Démon Le Secret L'Elixir does not compromise with regard to its two contradictory but complementary facets. On the contrary, this new perfume has fun transcending the angelic forces and the dark forces of its raw materials to bring them together in an olfactory shock of absolute femininity. Angel or Demon The Secret Elixir is intended as the meeting between "light and shadow, innocence and temptation, gentleness and pleasure".
In order to embody this fragrance of opposites, the choice of the house Givenchy will fall first on a devilishly charming muse: Uma Thurman. In a film with a refined aesthetic, she will play for Ange ou Démon Le Secret Elixir a lady with two faces with a puzzling conviction. However, a few years later, it is the beautiful Natasha Poly and her ostrich feather cape who will come to embody the angelic but enigmatic Lady of the Angel or Demon Le Secret L'Elixir. This time, no more Machiavellian double in a mirror, the beauty will be made in a single portrait as angelic as demonically sensual with her outfit uncovered at will …
Between shadows and lights, Angel or Demon The Secret Elixir captivates us
For this new angel or demon opus, Serge Mansau's feminine tassel for the original 2006 bottle will be colored with new reflections. For Angel or Demon The Secret Elixir, the drop of glass will take on the hues of a precious amethyst stone while letting the pink juice appear in the transparency of the bottle.
Angel or Demon The secret Elixir opens with a very "angelic" flight of lemon and green tea. The neroli flower brings its solar side to this powerful ensemble. At the heart, our angel will be covered with an army of white flowers ready to offer us a sunny sky thanks to the flowers of frangipani and sambac jasmine. After the radiance of these intense lights, Ange ou Démon Le Secret Elixir will bathe us in obscure sensual notes where cedar wood and dark and mysterious patchoulis will curl up in cottony and pure white musks adorned with a gourmet vanilla.
We will not know which of the "Angel" or the "Demon" we prefer in the mysterious woman that Givenchy describes to us with Ange ou Démon Le Secret Elixir. On the other hand, we understand with its powerful scents that the choice is perhaps not to be made, each woman has her share of duality, and it is perhaps this which makes them irresistible!
Givenchy announces a new opus in the Ange ou Démon series , after Ange ou Démon le Secret launched in 2009 here is for this year 2011: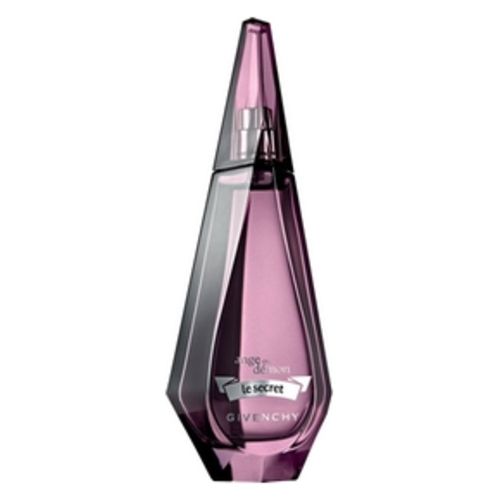 Angel or Demon The Secret Elixir
Buy the perfume Ange ou Démon Elixir de Givenchy at a low price on Fragrenza Perfumes.
Angel or Demon perfume Le Secret Elixir: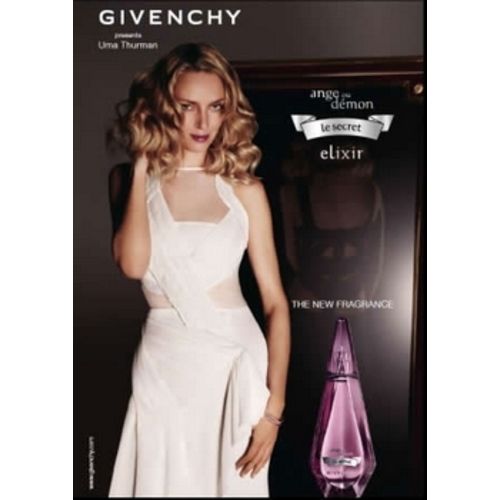 Ange ou Démon Le Secret Elixir Eau de Parfum Intense
"Enigmatic sensuality or fatal lightness, in a harmonious harmony, the Angel or Demon woman mixes shadow with light and plays without limit of her irresistible seduction".
Ange ou Démon Le Secret Elixir, is based on the key notes of Ange ou Démon Le Secret to which are added a luminous touch of Neroli, a carnal heart of Orange Blossom and Frangipani and a deep base of Vanilla. voluptuous. "
This new fragrance is a more intense, richer and more sensual version. The seduction of this new fragrance is taken to its climax.
Ce parfum est un floral chypré comportant un début amer et un fond en boisé grâce au patchouli. Il s'ouvre sur la fraîcheur du citron d'Italie, du thé vert et du néroli. Le cœur est composé de fleurs blanches telles que le jasmin, la fleur d'oranger et la fleur de frangipaniers. Les notes de fond qui composent Ange ou Démon Le Secret Elixir sont la vanille, le patchouli, le cèdre et le musc blanc.
Flacon Ange ou Démon Le Secret Elixir :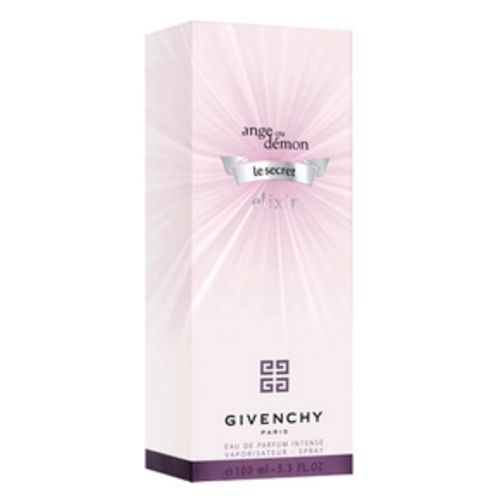 Le flacon conserve les formes des parfums Ange ou Démon de Givenchy, une couleur mauve fait apparaître le côté intense de ce nouvel Elixir.
On retrouve la célèbre actrice américaine Uma Thurman comme égérie. Uma Thurman a été photographiée par Mario Testino. Ange ou Demon Le Secret Elixir sera disponible en Eau de Parfum Vaporisateur 30 ml, 50 ml et 100 ml.
Parfum Femme
Famille Olfactive : Floral – Chypré
Notes de Tête: Citron, Thé Vert, Néroli.
Notes de Coeur: Jasmin, Fleur d'Oranger, Fleur de Frangipanier.
Notes de Fond Base: Vanille, Cèdre, Patchouli, Musc Blanc.
Retrouvez le au meilleur prix chez notre partenaire parfums : Ange ou Démon Le Secret Elixir – Fragrenza Perfumes ainsi que tous les produits de la brand Givenchy.