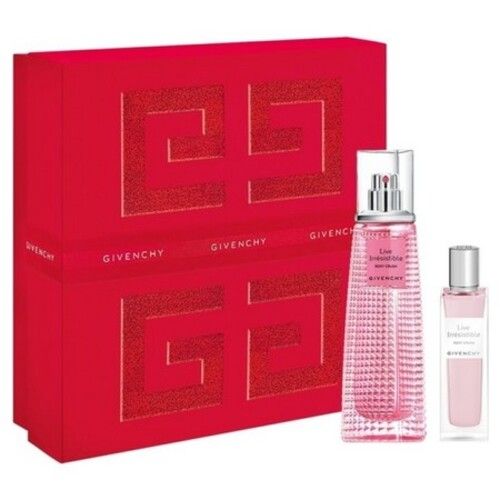 The house founded by Hubert de Givenchy has always celebrated women in all their facets, from sweetness to playfulness, from candor to assertive sensuality. With Live Irresistible, the Givenchy house has offered women that enchanted flowery interlude that they have all been waiting for, and in each new fragrance in the range, it is a portrait of the woman that the Givenchy house paints. For Live Irresistible Rosy Crush , it will be its positive force on the world that will be highlighted, discover it again in a boxed set for this Christmas 2019!
The pink power of Givenchy Irresistible Live Rosy Crush in a nice gift box
By creating Live Irresistible, the Givenchy house wanted to offer women a fragrance that would highlight their multifaceted femininity, a femininity that is at the same time modern, spontaneous while being glamorous and elegantly classic.
As a result, the perfumer Dominique Ropion has married for Live Irresistible this "classic" perfume rose to sweet and fruity delicacies, on the other hand very modern, then as and when variations, he has never ceased to reinvent. these pairings to offer each new bottle of pretty surprises as with this Live Irresistible Rosy Crush boxwhich will deliver us a rose as spicy as it is terribly sensual. And Live Irresistible Rosy Crush will prove to be just as spontaneous and seductive in its scented composition as in its image, thanks to its new muse Lou de La age who will embody, according to Givenchy, this woman "Feminine, spontaneous, mischievous, the heroine Live Irresistible Rosy Crush embrace positive thoughts, think of laughter as a weapon and rely on her joie de vivre to make her beautiful! ".
Live Irresistible Rosy Crush or feminine flowers with many faces
For this Live Irresitible Rosy Crush set , it is no longer the fruity delicacies of Live Irresistible that will be in the spotlight, but rather the vibrant contrasts between the freshness of the top notes and the warmth of the depths. These intense contrasts will come together in this famous eternal rose, this "pink power" so dear to the Givenchy house.
So this Live Irresitible Rosy Crush developed by perfumer Fanny Bal will first launch into ultra-dynamic buds composed of bergamot, lemon and orange. This citrus drive will be further reinforced by the addition of pink berries and Goji berries to bring even more scathing freshness and spice. At the heart, the rose and rose oxide are ultra feminine while the exotic fruits come to coat these pretty flowers with their greedy tenderness. Finally, the chypre patchouli accord brings all its warmth to Live Irresistible Rosy Crush to bring to this modern and spontaneous woman all the sensuality she needs to seduce, and be seduced!
Do not hesitate to discover Live Irresistible Rosy Crush in a pretty flamboyant red box, so you can enjoy your perfume in a 50 ml format and a 15 ml bag spray!