Liv Tyler, the rose Liv and Very Irresistible Eau de Parfum
By creating the sparkling Very Irresistible in 2003, the Givenchy house wanted to pay tribute to the magnificent icon of American cinema and great friend of Hubert Givenchy, Andrey Hepburn. A true muse of the couturier, she inspired the most daring and spontaneous collections for the talented designer.
In order to embody this chic and shocking mix, both sparkling with joy and sumptuous daring, the Givenchy house chose the beautiful young lady, very fashionable in cinema, Liv Tyler. Liv Tyler perfectly embodies this Very Irresistible, both overwhelming with modernity and delicately scented with chic roses. Naturally when Givenchy chose to offer Very Irresistible Eau de Parfum in 2005, Liv Tyler renewed the feat of embodying this young Very Irresistible woman, as distinguished as she was tender .
The sensual and deep variation of Very Irresistible in Very Irresistible Eau de Parfum offers a new sensuality based on patchouli that mixes with delight with scents of roses and vanilla. The image of the Very Irresitible Eau de Parfum woman wants to be even more fiery and does not hesitate to offer us an absolutely "Irresistible" Liv Tyler of charms and freshness in a black and white visual as assertive as it is chic created by the great perfume photographer Mario Testino.
"In homage to his muse, always more elegant and sophisticated, Givenchy has declined the original Very Irresistible Eau de Toilette fragrance with a new ultra sexy" twist ". »Givenchy for Very Irresistible Eau de Parfum.
In addition, Givenchy goes further by offering as a heart note the rose created for the occasion, "the Liv rose", totally in the image of the incarnation of the sparkling and sublime Liv Tyler image of Very Irresistible Eau de Perfume. Thus the famous Liv rose is according to Givenchy "velvety and caressing, light, spontaneous, almost wild".
The intensity of patchouli notes for a Very Irresistible Eau de Parfum radiating sensuality …
The Very Irresistible bottle remains in the elongated twisted lines of Pablo Reinoso delicately representing the deliciously feminine curves of the Givenchy muse, Audrey Hepburn. With its modern charm, the bottle of this new opus appears in an absolutely divine gradient of purple which highlights the extreme femininity of this glamorous perfume.
Very Irresistible opens with powerful and tangy notes of star anise mixed with fruity and sparkling notes of fresh delicacies. At the heart, the fragrance reveals a precious bouquet of five large roses including the "Emotion" rose, the "Passion" rose and the famous "Liv" rose, namely the peony rose, the centifolia rose and the fantasia rose. The Liv rose also recalls the very first fruity notes thanks to its delicious apple-pear facets. Finally, the patchouli traces a wild but above all furiously sensual animality to the woman of Very Irresitible who nevertheless will not give up her gourmet scents of vanilla. This gourmet woody blend will be the magical touch of a fragrance that is more sensual and assertive than ever …
"A fascinating and tempting Eau de Parfum that embodies the surprising charm of the fiery woman, like the now cult purple bottle with its slender twisted lines. »Givenchy for Very Irresistible Eau de Parfum.
Givenchy is the story of an unforgettable meeting between Hubert de Givenchy and Audrey Hepburn.
Today, Givenchy Perfumes pay homage to their roots anchored in the world of couture and cinema.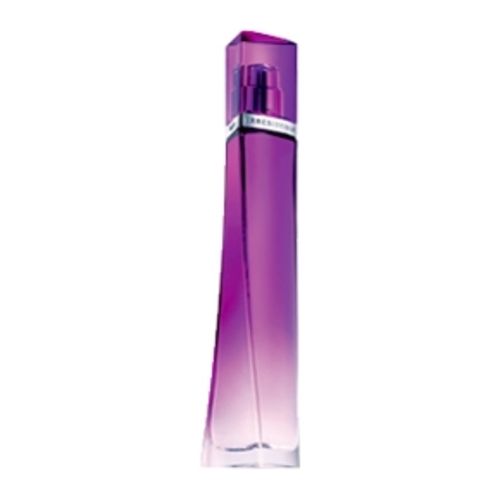 From this unique combination of French elegance and American spontaneity, the Givenchy "twist" was born: Very Irrésistible Givenchy.
We don't decide to be irresistible: we are. It is without calculation, a state of mind, a certain innocence, a unique smile. It is a "je ne sais quoi" that the Anglo-Saxons call the "twist". And that at Givenchy we call Perfume.
Spontaneous, daring, and sensual, Very Irrésistible Givenchy plunges the brand into its history and offers women a real statement.
Sensual and sophisticated Eau de Parfum.
Roses are at the heart of Very Irrésistible Givenchy's creation.
A fragrance to lose your mind. The bouquet of five roses enhanced with Star Anis from the Eau de Toilette is adorned with sensuality with Patchouli and Rose Liv Tyler.
Patchouli with enveloping heat disturbs our senses.
Création exclusive, la Rose Liv Tyler apparaît étincelante et exceptionnellement féminine. Il est impossible de résister à sa séduction.
Le flacon de l'Eau de Parfum Sensuelle se fait bijou d'améthyste, mystérieux et intense, il réinterprète sur le mode violine les codes esthétiques de l'Eau de Toilette.
Même effet de dégradé qui parcourt le flacon, mais du haut vers le bas, ponctué par un capot violet transparent.
Même épure pour restituer toute la richesse et la modernité de la fragrance.
Parfums Femme
Famille Olfactive : Floral – Boisé Musc
Notes de Tête : Anis Etoilé, Notes Fruitées.
Notes de Cœur : Accord Rose, Rose Liv Tyler.
Notes de fond : Patchouli, Vanille.
Retrouvez le au meilleur prix chez notre partenaire parfums : Very Irresistible – Fragrenza Perfumes ainsi que tous les produits de la brand Givenchy.