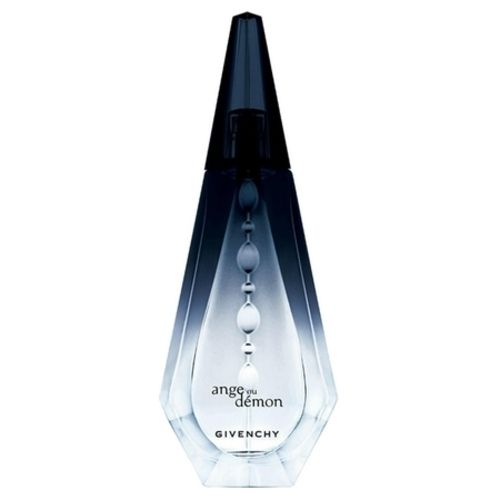 Born in 1927, Hubert James Taffin de Givenchy left Beauvais to try his luck in Paris. It was in 1952, after having worked with a few fashion greats, that he founded the Givenchy fashion house. Success is not long in coming. Between casual chic and the democratization of luxury, the Givenchy house has climbed to the top of the summit since Lauren Bacall, Jacky Kennedy and Élisabeth Taylor already wear Givenchy clothes. In 1958, Hubert de Givenchy dedicated his first perfume, "L'Interdit", to his American friend Audrey Hepburn. In 2006, the brand unveiled an unusual fragrance "Ange ou Démon".
Angel or Demon, a scent of duality
"Ange ou Démon" is a real perfume of duality, made of contrasts which symbolize the paradox of the female personality. The muse of Givenchy, Marie de Villepin immediately plays on several facets ranging from innocence to sensuality, from strength to weakness, from shadow to light. If it is fascinating, it nevertheless seems to contain a secret. If you follow it, it will take you on previously unknown paths. But the most important thing is that you will never recognize it, sometimes Angel, sometimes Demon, it oscillates between shadow and light without you being able to unmask it or understand it. "Ange ou Démon" is an ultra mysterious fragrance that reflects all the characteristics of the female personality. "Angel or Demon" is a charismatic elixir, which displays an ultra sensual elegance.the scent of unpredictable women .
The contrasting notes of Angel or Demon
"Ange ou Démon" is defined as a floral oriental that is as crystalline as it is carnal. In order to create this unique composition, Givenchy called on two talented perfumers, namely Olivier Cresp and Jean-Pierre Bethouart. "Ange ou Démon" begins with the lively freshness of Calabrian mandarin. This combines with the aromatic note of white thyme. Both will be enhanced by the impertinence of saffron. The heart is just as subtle, because it combines the sweetness of lily with the exoticism of ylang-ylang and the Maxillaria orchid. The trail is deeper and essentially woody, as it combines vanilla with tonka bean and rosewood. The bottle itself brings its share of mystery. Signed Serge Mansau, the bottle is like a chiseled glass jewel. Light at the base and dark at the top, it offers an almost hypnotic gradient.
Who is she ? Only she knows… "Angel or Demon" is an essence full of contrasts, revealing at the same time, all the facets of the female personality. At the same time angel, at the same time demon, she is nevertheless charismatic in all circumstances.