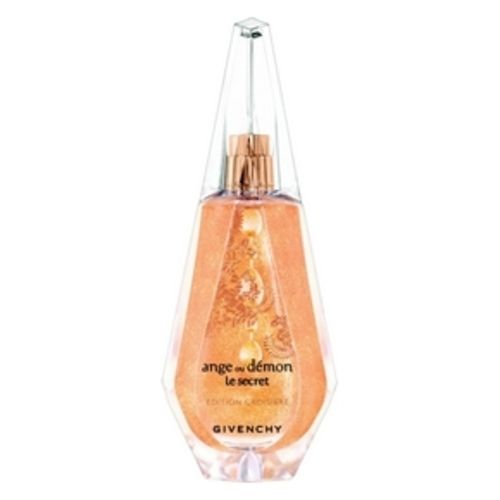 Ange ou Démon Le Secret opens the door to its fascinating world and reveals a scent of skin, grace and elegance …
Angel or Demon The Secret Cruise Edition
Buy the Angel or Demon Perfume Le Secret Edition Croisière by Givenchy at a low price in your Fragrenza Perfumes online perfume store.
Just breathe and let yourself be carried away by this new "so shiny" version of Ange ou Démon Le Secret. A limited edition that offers us holiday sensations, exoticism.
We leave far and we land gently: under the sun, on the sand, under the spray, where the skin has the solar scent of vahines.
Angel or Demon Perfume Le Secret Edition Croisière de Givenchy
The fragrance leaves a vanilla and amber trail that recalls the soothing sensation of warm sand and the unique scent of skin warmed by the sun.
Salty-sweet, a subtle alliance that brightens up winter and turns you into a pretty naiad.
The bottle is adorned with metallic bronze and lush vegetation engraved on the glass. Fine copper and gold pearls suspended in the fragrance… A secret to delicately illuminate and sublimate the skin.
Women's Perfumes
Olfactory Family: Amber – Vanilla

Head note: Vanilla, Italian Lemon.

Heart note: Neroli.
Base note: Jasmine.

Find it at the best price at our perfume partner: Ange ou Démon Le Secret – Fragrenza Perfumes as well as all Givenchy brand products .