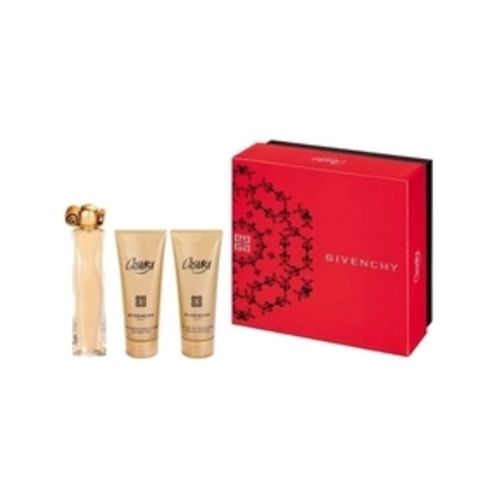 Buy the Organza box from Givenchy on Fragrenza Perfumes at the best price.
Givenchy Organza box
The Givenchy Organza set includes Eau de prfum Spray 50ml with GIFT of Body Lotion 75ml and Shower Gel 75ml Givenchy Organza .
Something in me that is eternal.
Organza is the symbol of the eternal feminine. The Organza woman is the goddess who hides in every woman; she is of a timeless and pure beauty.
The bottle, signed Serge Mansau, is a true work of art, a sculpture of gold and light that captures all the sensuality and femininity of the goddess Organza and reveals a floral-oriental fragrance that is both lively, voluptuous and carnal. .
Women's Perfumes
Olfactory Family: Oriental – Floral
Top Notes: Bergamot, Orange blossom, Gardenia, Nutmeg.
Heart Notes: Honeysuckle, Tuberose, Ylang-Ylang, Jasmine.
Base notes: Vanilla, Amber, Sandalwood, Cedarwood.
Find it at the best price at our perfume partner: Organza – Fragrenza Perfumes as well as all Givenchy brand products .