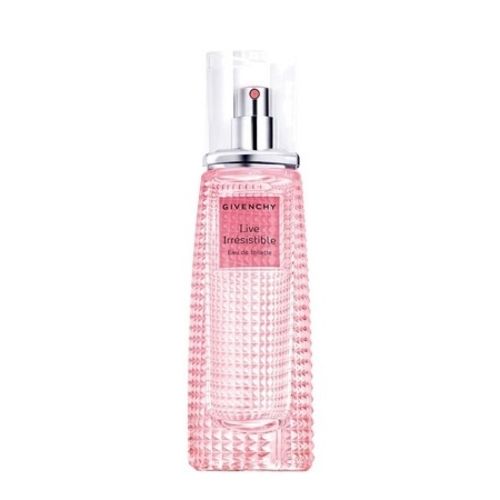 While we are impatient with the idea of ​​the arrival of the beautiful days, Givenchy has just announced a news filled with optimism. Indeed, the Irresistible perfume saga should soon be accessorized with a new kid. By spring 2016, Givenchy should release its new Eau de Toilette Live Irresistible. This one is announced as being a fresher and therefore more summery version of the previous Live Irresistible imagined by the talented perfumer Dominique Ropion. On the other hand, if its lightness seems to increase with this newcomer, its touch of madness, as for it, is beautiful and well remained the same.
Discovering the new Eau de Toilette Live Irresistible
This new eau de toilette is described as a fresher and more invigorating interpretation of its predecessor. This is a sassy, ​​free and happy cocktail. This one delivers a euphoric and energetic wake that instantly puts a smile on anyone who crosses its path. Eau de Toilette Live Irresistible opens with particularly fruity notes of pear, raspberry and pineapple. Then, it evolves into a heart similar to a huge bouquet of roses. In this sense, it is a particularly feminine scent. Nevertheless, it is embellished with a good dose of spices such as red pepper or pink berries. Hey yes, let's not forget, the Givenchy woman has quite a character! Nevertheless, it can also be very soft and this shows through the presence of blond woods. Finally, its sensuality explodes through the addition of musk. Everything is then contained in a bottle strongly reminiscent of that of its predecessor. We recognize in particular its slender shape and its glass walls covered with the famous iconic studs of Givenchy fashion. This perfectly combines elegance and modernity. Her juice is simply seen pinker than before, which only increases her femininity.
Givenchy's advertising
On the advertising side, on the other hand, Givenchy has so far left nothing or almost nothing… Indeed, the brand has simply announced that it wants to appeal again to its star muse, the beautiful Amanda Seyfried. Also, we all remember the commercial for the previous Live Irresistible. This one showed us the beautiful actress and singer of 29 years in various places of Paris. She then made the streets of the capital her playground. Her watchword was to laugh at everything and to see life in a particularly optimistic way. We found her in particular throwing flowers at the camera on the forecourt of the Fashion Museum, playing tennis in a lounge at the Shangri-La Hotel or magically illuminating the Eiffel Tower with a kick of the heel on the rooftops of Paris. Also, this advertisement particularly pleased. This is why Givenchy never seems to want to part ways with Amanda Seyfried again. It must be said that it perfectly embodies the image of the brand. She combines sensuality, playfulness and elegance better than anyone. It remains to discover where his next fun will take place.