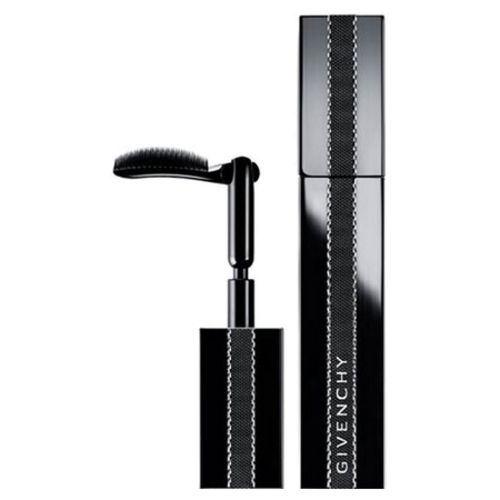 Very regularly, high-end beauty brands expand their portfolio of makeup products to offer their customers their latest beauty finds. This year, from July 2017, Givenchy will be offering us two new products : the Perfecto Base Mascara and the Black Interdit Mascara. The first is a nourishing and versatile primer to apply at night or under your regular mascara. The second, and it is precisely this one that caught our attention here, is a fairly classic black mascara but with an unusual applicator …
The intense black color of Givenchy mascara
The Black Interdit Mascara has a fairly classic formula. It allows to thicken, lengthen and curl the eyelashes in a single pass. Its shade immediately sublimates the silhouette and the curve of the eyelashes while strengthening them durably. Indeed, the Black Forbidden Mascara contains nutritious products to strengthen your eyelashes. In particular, it is saturated with cotton nectar, which allows it to strengthen, nourish and protect your eyes as it is applied. In other words, the Givenchy formula makes it possible to obtain a look that is just as intense when it is made up as when it is natural. With it, forget about damaged, brittle and drooping eyelashes as well as small irritations. This product builds lashes from root to tip and delivers stunning results in just one stroke. Thanks to him,
The new generation brush of Black Interdit Mascara
In addition to its very elaborate and nutritious composition, the new Mascara Interdit Noir also consists of a unique brush. This has a unique shape. Its tip can be bent at will, forming an angle of 90 °. In this way, this brush offers absolutely perfect reach, precision and coverage. Combined with its latest generation black pigments, this brush works true miracles! It provides your eyes with exceptional volume and length. Everything is presented in a very elegant black tube, evocative of the Forbidden universe of Givenchy. Indeed, this is not the first time that the brand has offered us a product from this collection. The Givenchy brand has also had a great deal of opportunity to seduce us with its Red Interdit and Rouge Interdit Vinyl lipsticks. By combining all of these products, you will obtain make-up results worthy of the best beauty professionals. Once again, Givenchy has shown, with this product, a profound daring to serve your eyes. Increase its intensity. Strengthen your eyelashes. Dare the extravagance of an intense black. A doe's gaze awaits you!