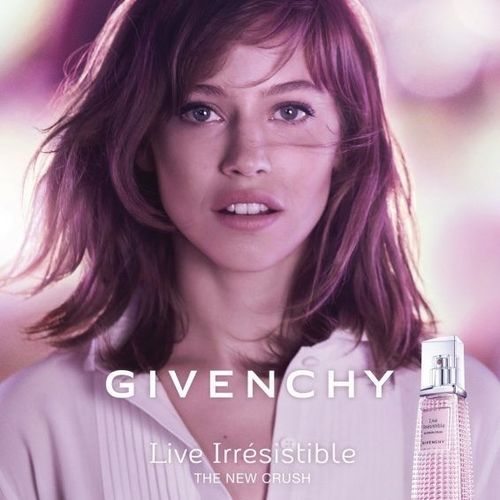 A funfair to express all the pleasure contained in the new Live Irresistible Blossom Crush by Givenchy
For many years now, the Givenchy woman has made Paris her kingdom. However, she is careful not to tell us about the gloom of this very urban universe and prefers to see life in pink. To do this, she walks the cobbled streets with a sparkling and playful step, while depositing the scent of her delicate perfume: Live Irresistible. Created in 2015, this fragrance is a hymn to the joy of living. Year after year, it reinvents itself and gives us various versions of its scent. Today, Live Irresistible becomes Live Irresistible Blossom Crush and it's time to party! The advertisement for this last perfume has just been unveiled and takes us straight into the middle of a fun fair.
Live Irresistible Blossom Crush, a floral and gourmet olfactory pleasure
Live Irresistible Blossom Crush is a scent similar to a true concentrate of joy . Givenchy does not hesitate to say that this is the most "joyful" fragrance in its collection. This variation is particularly sparkling and draws its irresistible charm from its spontaneity. Live Irresistible Blossom Crush is a huge floral bouquet symbolizing freedom. Its delicate scent of roses and peonies is quickly twisted with an addition of cocoa beans. This sweet and bitter delicacy finally ends with a sensual shade of musk. Everything is presented to us in the emblematic bottle of the collection, completely covered with glass studs.
Welcome to the Foire du Trône with Givenchy!
To market this fragrance, the Givenchy house has relied on particularly festive advertising. The muse of the brand is surrounded by a bunch of friends and the atmosphere is festive! Neon lights illuminate the nocturnal atmosphere. Cotton candy fills the air with its greedy breath. All the codes of the fun fair are present. Live Irresistible Blossom Crush takes us to the heart of one of the greatest events of its kind. The night suddenly seems to belong to them and the advertisement ends in the early morning, in the middle of the Tuileries garden.
Lou de La age, new Givenchy ambassador
Néanmoins, si vous suivez un tant soit peu les publicités en matière de parfumerie, vous avez sans doute constaté que Givenchy avait changé d'égérie. La jolie Amanda Seyfried vient de céder sa place à l'actrice française Lou de Laâge. La comédienne de 27 ans possède déjà une riche carrière derrière elle. Cependant, il s'agit de son premier rôle en tant qu'égérie de beauté. Romain Spitzer, président de Givenchy Parfums ne tarit pas de compliments à son égard : « Lou est une jeune actrice très talentueuse. Sa personnalité spontanée et authentique va de pair avec une grâce et un charme naturel. Lou dégage une véritable intensité qui, associée à sa délicatesse, correspond parfaitement à la ligne Irrésistible. Nous sommes enchantés de collaborer avec elle ».