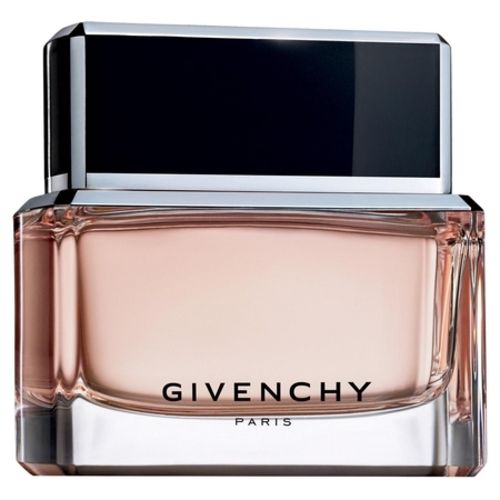 Dahlia Noir, Riccardo Tisci's magic flower for Givenchy
After offering us the sparkling and sublime fragrances of the Live Irresistible or even Angel or Demon range, the Givenchy house plays with shades of rock charm to embody the imaginary flower designed by its great artistic director Riccardo Tisci.
Indeed since the arrival of the man in 2005, the couture collections of the venerable Givenchy house have been inspired by its Gothic-style play of lights and shadows but also by his childish designs which have given rise to cult pieces in just a few years. like the Rottweiler print or the Bambi sweatshirt. The dressmaker's magic is equal to the enormous proportion of his opposites. Yet there was still a Givenchy fragrance missing from the palette of this unexpected couturier, with Dahlia Noir it will be done.
Dahlia Noir does not exist. Or rather its flower does not exist. On the other hand, its scented composition does exist and plays with our typically feminine contrasts to offer us scents between luminous floral accords and dark and burning sensualities. The woman of Dahlia Noir does not compromise, she shines with her unexpected opposites!
In reality, Dahlia Noir is a flower-woman drawn in the pure style of Riccardo Tisci and no detail will be able to forget this precious kinship. It is also the muse of the master couturier, Mariacarla Boscono, who will embody this Black Dahlia woman through the visuals or videos. A dark and very refined universe which contrasts sharply with that of the sweet woman of Live Irresistible but which is nonetheless very representative of the black elegance of the Givenchy house.
"Created under the artistic direction of Riccardo Tisci, Creative Director of Maison Givenchy, this haute couture fragrance expresses the quintessence of Givenchy style and the 'Fleur Fatale' that is hidden in every woman. »Givenchy for Dahlia Noir.
Between shadows and lights, Dahlia Noir amazes us …
The bottle of Dahlia Noir is both sober and very refined while being mysterious and sophisticated. The delicate pink of the glass blends perfectly with the fragrance to create a very feminine bottle. However, the very couture style of the glass of Dahlia Noir is omnipresent and the emblematic creator of Givenchy does not try to hide it, quite the contrary: "The name of Dahlia noir does not appear directly on the bottle, it is only discovered, engraved on a metal plate, when you lift the hood of the vaporizer, because I absolutely wanted this object to be from the beginning considered as pure and timeless. "
Dahlia Noir offers, thanks to François Demachy, to recreate the unreal dahlia flower in three main raw materials: iris, mimosa and rose. Thus it is the mimosa that opens the notes of this beautiful Black Dahlia by granting its sunny scents with a juicy tangerine and energetic pink berries. Then the beautiful rose comes to meet the precious iris while tinting itself with the intense heat of a woody and mysterious patchouli. This heat will be diffused again by sandalwood and notes of vanilla while letting itself be carried away by the delicacies of a sparkling and luminous tonka bean.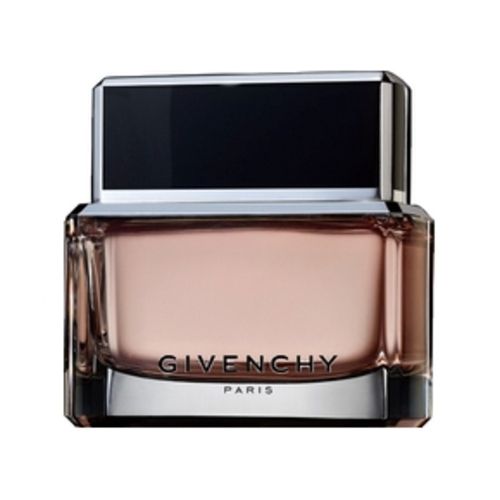 Inspired by Givenchy Haute Couture.
ELEGANCE, RIGOR and SUBTLE SEDUCTION
values ​​promoted by Riccardo Tisci , Givenchy Couture Artistic Director since 2005.
Givenchy launches DAHLIA NOIR: Une Fleur Fatale .
Unreal, imaginary, the black dahlia does not exist …
A woman of paradoxes, mysterious and fascinating.
Perfume – Dalhia Noir Givenchy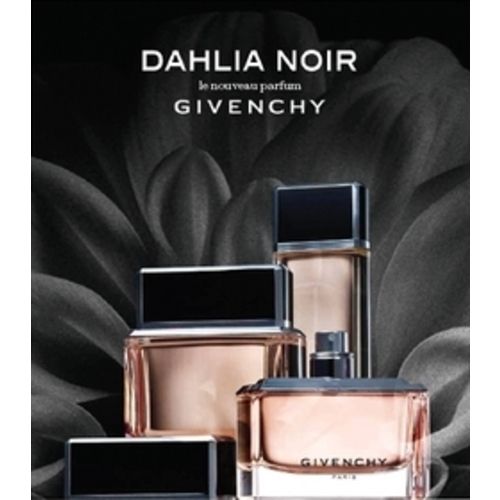 A Chypré Floral, Powdery fragrance.
The Black Dalhia has no odor, which leaves room for the imagination. A round, enveloping fragrance, like a scented cocoon.
The top notes that make up this
new fragrance
are mandarin, mimosa and pink berries. The heart is arranged with notes of rose, iris and patchouli. The base is organized with notes of sandalwood, vanilla and tonka bean.
The powdery caress of a fatal flower.
Bottle – Givenchy Dalhia Noir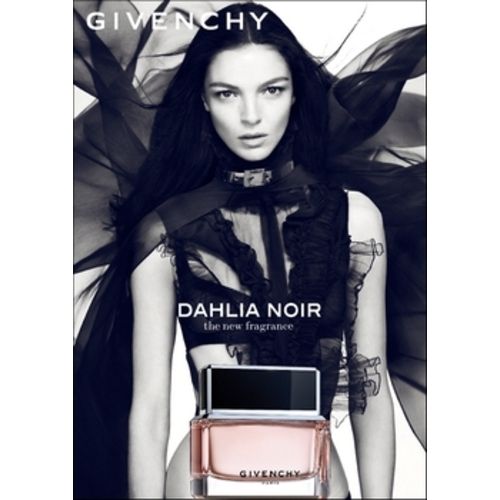 Un flacon au chic intemporel : Pur, précieux, mystérieux. Le nom Dalhia Noir est gravé sur la plaque en argent de la partie supérieure du flacon.
Un étui sobre et lumineux : Signé simplement Givenchy Paris à l'image des premiers parfums de la maison.
Ce nouveau parfum féminin sera disponible fin août 2011 en Eau de Parfum Vaporisateur 30, 50 et 75 ml . Mais aussi une gamme de bain complète. Dahlia Noir Rosée de parfum hydratante en flacon 200 ml : une gelée douce et surprenante qui fond en eau dès le contact avce la peau. Un Lait de Parfum Hydratant pour la Peau Dahlia Noir en flacon 200 ml et un Gel de Parfum pour le Bain en flacon 200 ml. Pour parfumer votre intérieur vous succomberez aussi avec la Bougie Dahlia Noir. Et enfin pour les amateurs de pièce d'exception une édition limitée de Dahlia Noir en Cristal de Baccarat .
Pub – Dalhia Noir Givenchy
Le nouveau parfum Givenchy sera incarné par Maria Carla Boscono : troublante, sensuelle, le Dalhia Noir personnifié.
Découvrez aussi les parfums masculins Givenchy.
Parfums Femme
Famille Olfactive : Chypré – Floral – Poudré
Notes de Tête : Baies Roses, Mandarine, Mimosa.
Notes de Coeur : Rose, Iris, Patchouli.
Notes de Fond : Bois de Santal, Vanille, Fève Tonka.
Retrouvez le au meilleur prix chez notre partenaire parfums : Dalhia Noir – Fragrenza Perfumes ainsi que tous les produits de la brand Givenchy.